Move house easier
If you're moving house, then you'll want to know what you have. Movers can lose or damage things and if you need to claim against their insurance then mythin.gs can help you prepare the required documentation. Storing all your information with us and even creating packing lists based on your belongings will ensure you get what you're entitled to if something goes wrong.
Before you move, don't forget to re-evaluate your home and contents insurance, don't rely on others.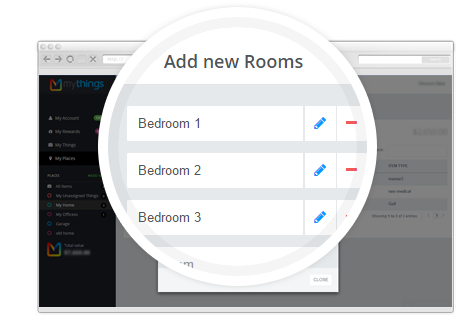 Organise by room
By organising your things by location you can make your move simpler. You'll know exactly what goes where when you get to your new house. And if you decide that you want to move items between rooms when you settle in your new place then we make that simple too.
Manage your move
Having everything ready well before you move can make it a much simpler process. There'll be no last minute rushing around to ensure you have the required information for your removalist and insurer making the process much less stressful. It will even help before moving with things like getting removal quotes and estimates for moving insurance because all of your details are easily accessible. And there'll be no arguments with anyone around how much things are worth because you will have agreed on everything before anything else happens.